Next week Chas (carnivalia) and I will celebrate our 14th anniversary. On this day of romance and chocolates I found myself going through old papers a bit while he was at work and I found a little note that he left me from perhaps a year or two ago. It was left for me on some occasion in which he was not here in the morning and I had to get his mom up and showered and fed. As I made my bleary-eyed way to our beverage bar that morning to make (the much-needed) coffee (without which I am a very cranky person but that is nothing compared to the passive aggressive nasty attitude that emanates from his mother under such circumstances) I was greeting by this little blue note that made me smile. I share it with you all so that you can have some idea of the quirky sense of humor that he has, which is one of the many reasons why 14 years doesn't feel like it has been even half that long.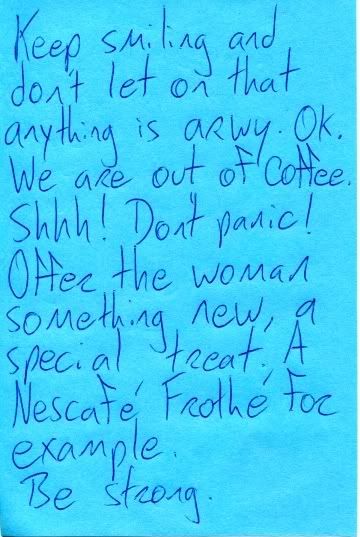 And so I took his advice and made her a Frothé (an instant mix which had been sitting in the back of our cupboard for awhile just waiting for an instance like this) and everything was fine.
I love you, sweetheart.